Tuesday 24 April 2018
Manchester to Antwerp: Two daily flights on weekdays and one daily flight during weekends
Daily flights between Manchester and Ostend-Bruges
VLM will serve the Manchester-Antwerp and Manchester-Ostend/Bruges routes from 1st October 2018. It is the first time that Manchester will have a direct flight to Ostend-Bruges, offering passengers easy access to the stunning, medieval city of Bruges. The airline will operate the Ostend-Bruges service once a day. Additionally, VLM will serve Antwerp twice daily Monday to Friday, with daily flights over the weekend. Tickets are already available from GBP 39* (one way, including airport taxes) via www.flyvlm.com.
About VLM
VLM Airlines employs more than 100 aviation professionals. The fleet consists of 6 Fokker 50 turboprop aircraft. VLM Airlines offers scheduled flights from Antwerp to Aberdeen, Birmingham, Cologne-Bonn, London City Airport, Munich, Rostock, Zurich and Maribor.
www.flyvlm.co
* Promotional fare valid from 24th to 30th April for travel from 1st to 27th October 2018
New route Manchester – Antwerp Airport from 1 October 2018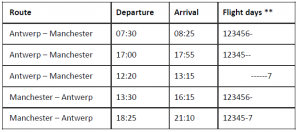 New routes Manchester – Ostend-Bruges Airport from 1st October 2018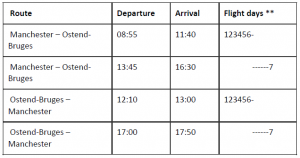 ** 1 = Monday, 2 = Tuesday, 3 = Wednesday, 4 = Thursday, 5 = Friday, 6 = Saturday, 7 = Sunday.