Before the security checkpoint
Bars & restaurants
Antwerp Fly Shop
In the early morning, customers of the Fly Shop can enjoy an coffee and croissant. During the day sandwiches with delicious fillings are served and in the early evening passengers can enjoy a glass of wine or a local Belgian beer at the bar.
www.antwerpflyshop.be/
Brasserie Belair
Belair is an exceptional concept at the Antwerp International Airport and is accessible for people who travel to and from the airport as well as people visiting the airport. The timeless brasserie offers some typical Belgian dishes as well as snacks.
In the summer you can enjoy a drink and a bite on the sunny rooftop terrace, including a spectacular view of the apron
The restaurant opens at 10.00am, the kitchen closes at 08.00pm.
The infrastructure of the restaurant is suitable for the reception of groups and /or travelling groups up to 60 people.
To make reservations, please contact at antwerpen@belair.be
www.belair-antwerpen.be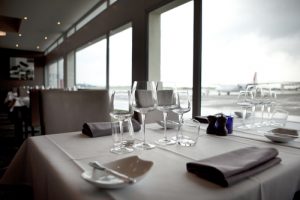 After the security checkpoint
Since April 2017, Antwerp International Airport has introduced a new bar and shop after the security checkpoint. This allows passengers to enjoy a drink and a bite before departure. In the shop passengers will also be able to buy typical Antwerp souvenirs and other gift items.