General travel advice
When you are departing on holiday, you will need to inquire about the situation in the country of destination. Furthermore, please check all information regardingrequired travel documents, passports and visas for your journey. We advise you to contact your airline, tour operator or travel agent to get the latest information regarding the travel advice and travel documents needed for your final destination.
In addition, the website of the federal government provides an overview of the most important travel advice for each country.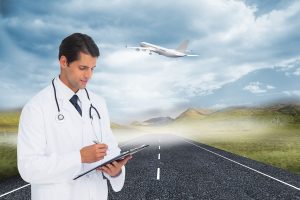 Coronavirus
In response to the coronavirus outbreak in China and all other viruses we provide you some preventive measures;
Transmission of the coronavirus is likely to be similar to that of the flu virus and happens via the respiratory tract. This can occur by directly inhaling infected droplets from coughing, sneezing, talking, or by direct contact with surfaces and especially with the hands on which these droplets end up. The virus can then be transmitted via the hands to the mucous membranes of the mouth, nose and eyes.
Recommendations:
Apply good hand hygiene: wash or disinfect your hands regularly
Apply good cough and sneeze hygiene -> sneeze in a handkerchief and throw it away
Touch the face, mouth or nose as little as possible with the hands.
Pay attention to food hygiene (always wash hands before eating)
Avoid close contact with live and dead animals
Avoid close contact with people, who cough and sneeze
It is best not to give a hand or kiss as a greeting at the moment
 Wearing mouth masks currently has no added value at all and is only intended for care workers
who come into contact with infected patients and for infected patients themselves.
Stay at home when you are sick and contact your family doctor by phone
(do NOT go to the doctor or the emergency room yourself)
If you would like more information, you can also visit the FPS Health website.
Pregnancy
Most airlines do not allow pregnant passengers to fly along after the 36th week of pregnancy. After the 28th week, they should be able to submit a medical certificate. Do always inquire with the airline operating the flight for the most current guidelines.
Travel tips
Airport access
Plan your trip to the airport in advance. Please find all needed information for getting to the airport by car or public transport under the heading "access".
Online check-in
Please contact your airline or visit your airline website to inform whether online check-in is made available.
Identity card & passport
Do not forget to bring valid travel documents. Children under the age of 12 need a children's ID or passport in order to be allowed to travel by plane.
Luggage
Please check with your airline on luggage restrictions and dimensions.
We also recommend to check the heading luggage to find more information about packing your luggage and rules which may apply.
Special assistance
Please contact your airline, tour operator or travel agent at least 48 hours before your departure and arrival to make special requests.
Holiday checklist
It is very useful to make a checklist of things you should not forget .
Besides the obvious sun glasses, sun tan lotion or mosquito repellent some destinations require a more thorough preparation.